Work by Landscape Technologies
Brief Sample of Our Quality
Below are some of completed jobs that Landscape Technologies have completed in the Boise, ID and greater Treasure Valley area.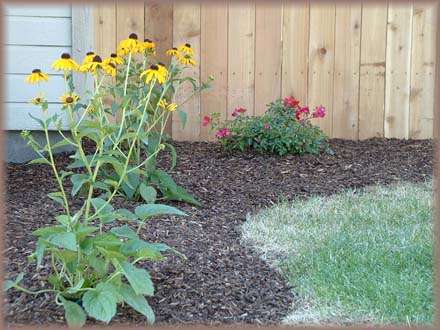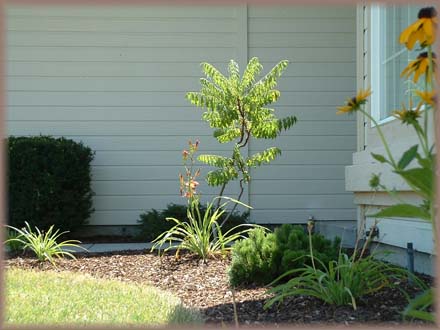 Tear Out, Build Fence and Reduce Landscape Maintenance
We removed the arborvitae trees as well as other material so the front of the home could be seen. The trees unleveled and broke the old fence, so a new fence was built to replace it. New borders and lines were defined, as well as installation of low maintenance plant material and ground cover. We featured a small Tiger Eyed Sumac tree near the front walkway.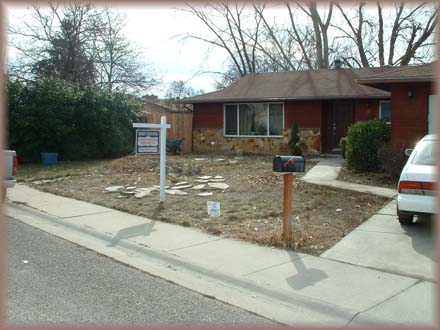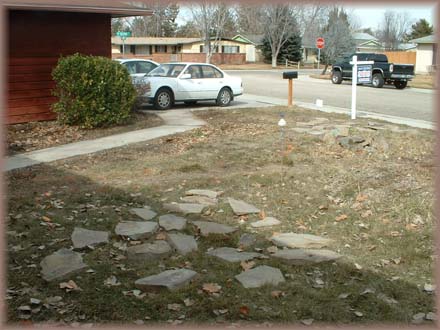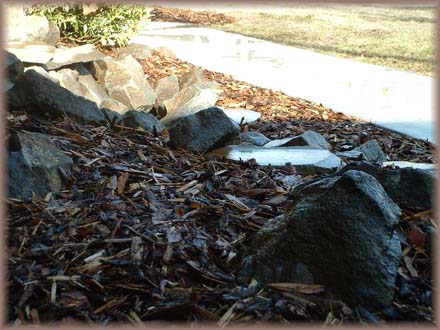 Front Landscape Cleanup and Remodel With Existing Materials
We pruned the bushes, raked, mowed and edged the landscape in winter while dormant. Working within clients budget we were able to use existing material that needed direction. You can see a river-like pathway was built as well as a raised bed on both sides to give dimension. Rock features were also placed to mimic small water features you would likely see in nature.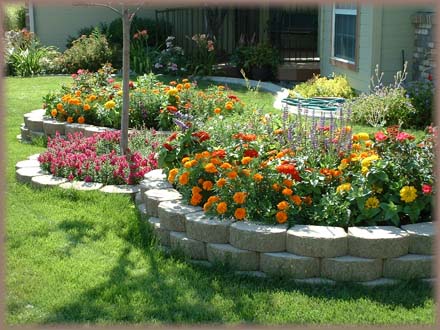 Rock Wall/Planter Bed Installation
We installed a multi-dimensional rock wall with the intention of using a natural color to enhance the beautiful landscape. The wall was used for planting flowers and tree's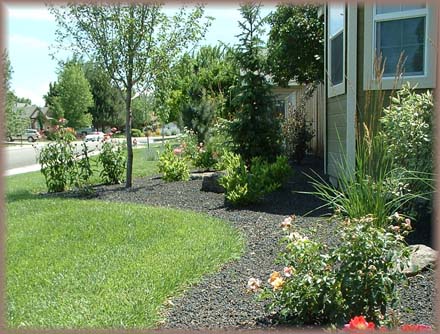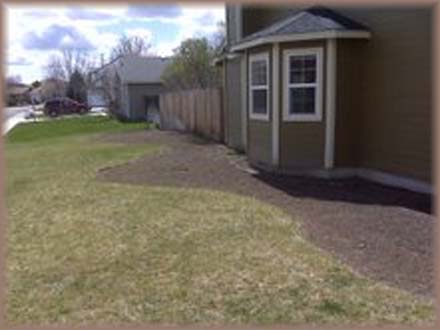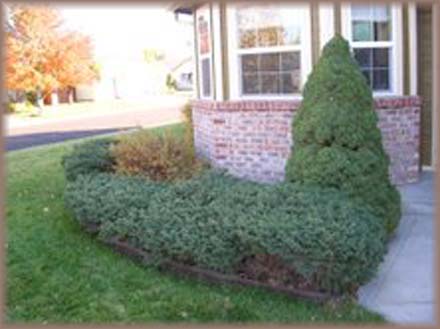 Tree and Shrub Removal, Ground Cover and Landscape Installation
We assisted client in defining boarders and the placement and installation of the landscape. Lava fines were the ground cover of choice, which you may have seen used before on racing tracks. The benefits of the lava fines besides their beauty, are that they compact down once watered in, to prevent weed growth and are also great for children and for discouraging animals.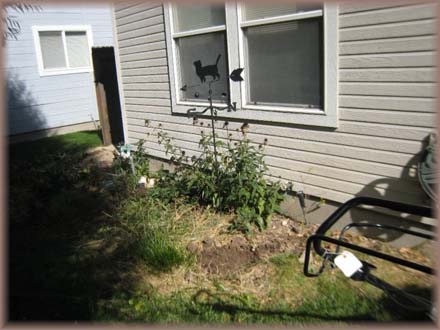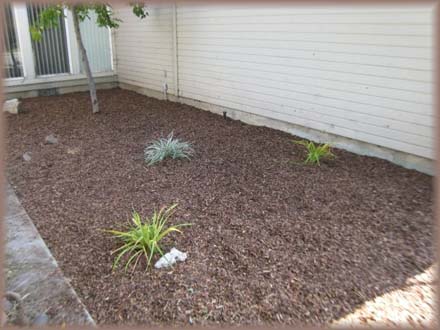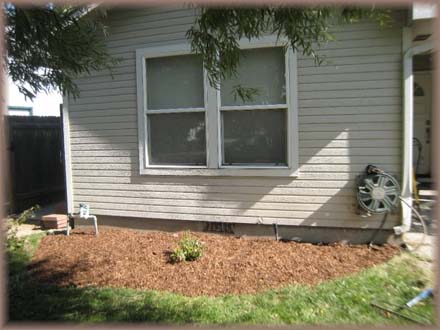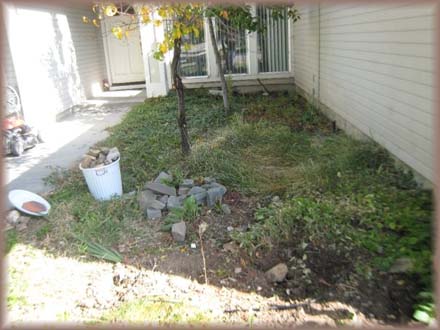 Front landscape Bed Removal and Installation
Client had overgrowth and excess material that needed to be removed. Weed barrier and ground cover was installed as well. We left one tree and installed only a few plants for a splash of color. Client desired an extremely low-maintenance front landscape, with only one small Carpet Rose plant in the other planter bed. A new rock wall was built around the large tree with just enough room to plant a few small flowers.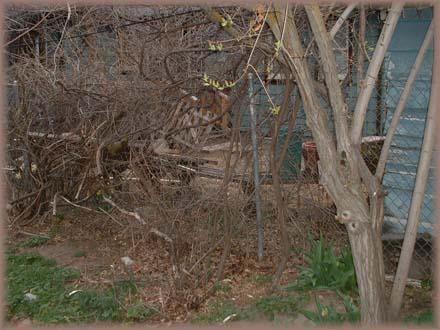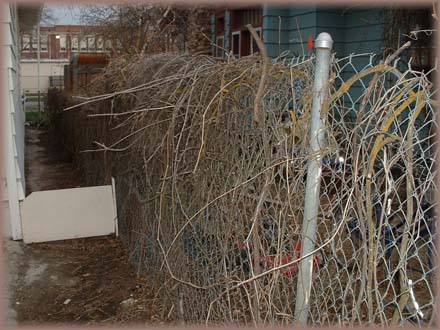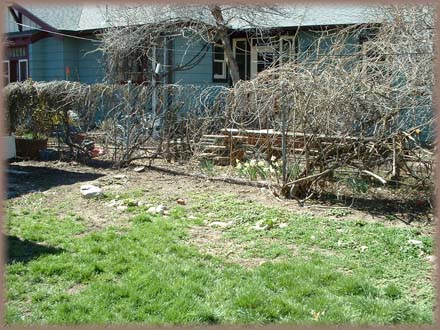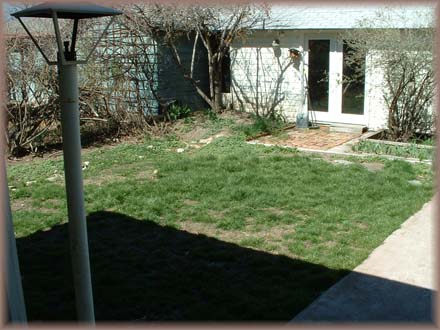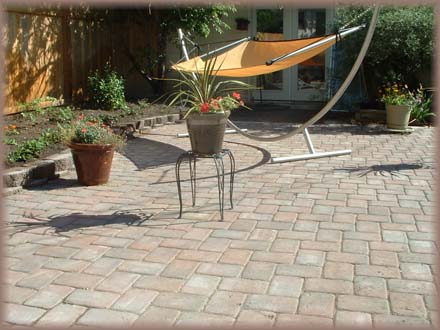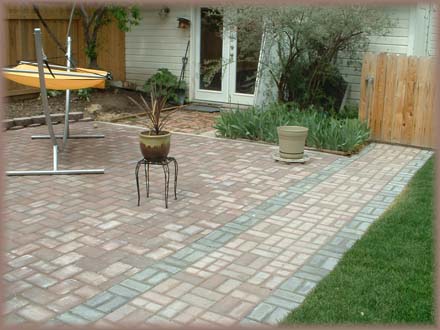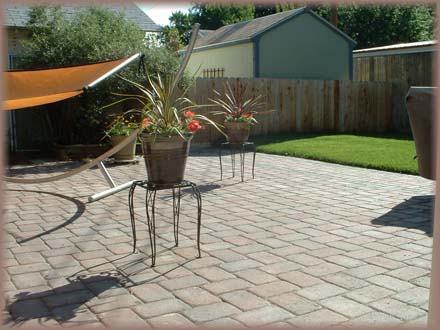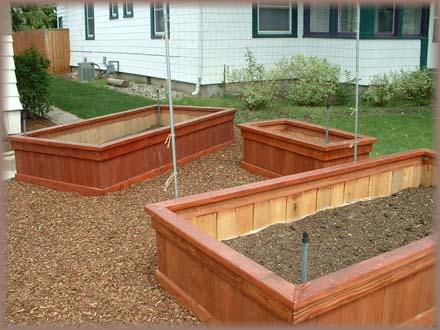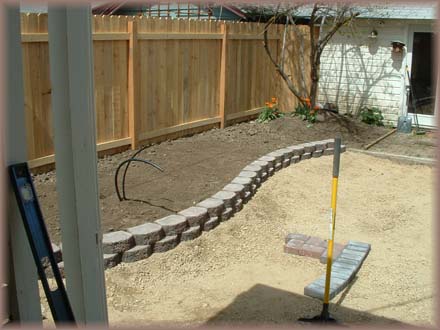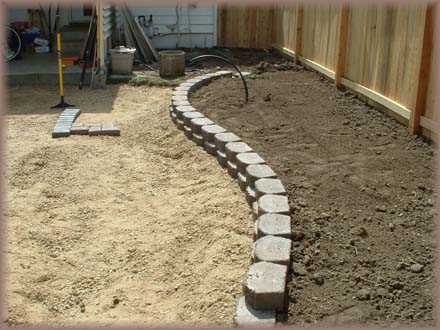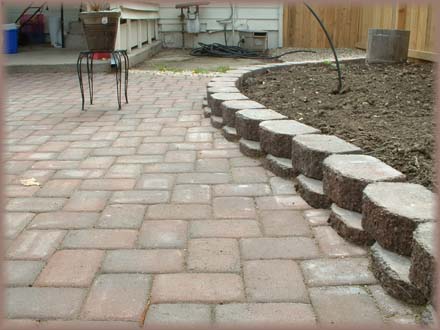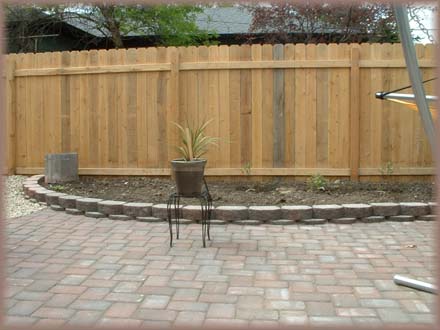 Complete Front and Back Yard Renovation
Client needed a completely new outdoor space for her new home. We removed unwanted trees and shrubs as well as plant material, cement and chain link fence. The ground needed to be leveled and adjusted properly for water drainage. A rock wall was built to give dimension, as well as a new cedar fence for privacy. Client desired low maintenance water and energy conserving idea's, so we built a specially designed paver patio with only a small amount of turf in two area's of her property. It is a beautiful design that she will be able to enjoy for years to come, with automatic sprinklers, weed barrier, ground cover, and special hand crafted garden boxes specifically designed to accent her home by Double J Timber Services LLC.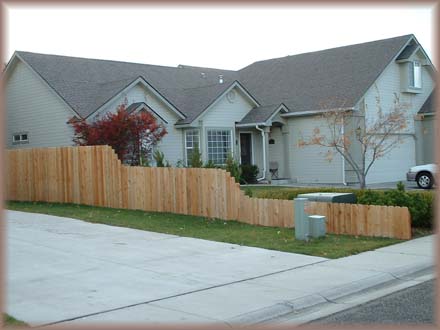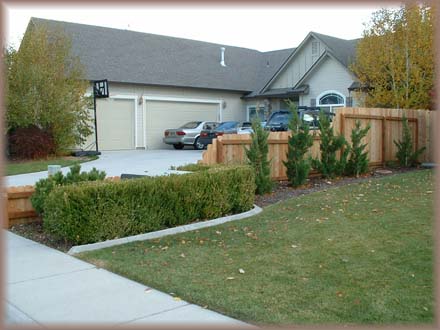 Cedar Fence and Gate Installation
Client needed a fence built for a sense of privacy. The cedar fence was approved by the H.O.A. and was given a stair case effect to blend privacy and beauty with neighborhood codes. A gate was built to match, as well as edged posts for a unique look.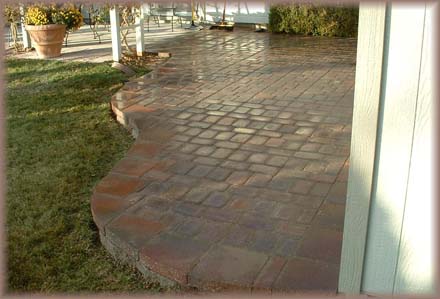 Installation of Paver Patio
In addition to some existing material, we were able to match the paver stones and create a wonderful new area to connect clients back patio together with her greenhouse. One of the benefits of having a paver patio is that they will never crack, but are strong enough to drive a vehicle on.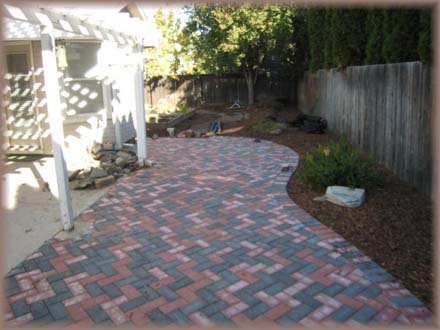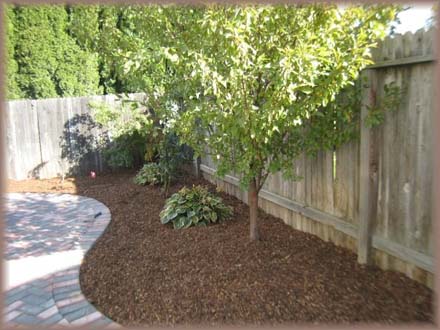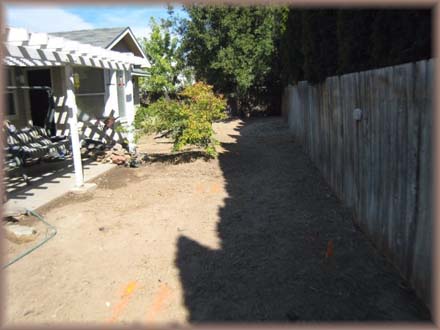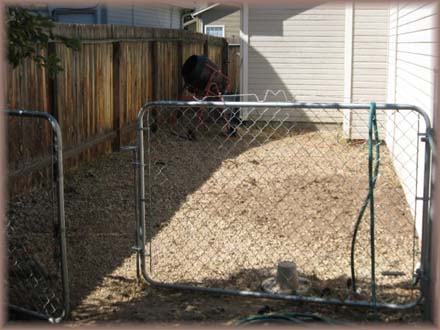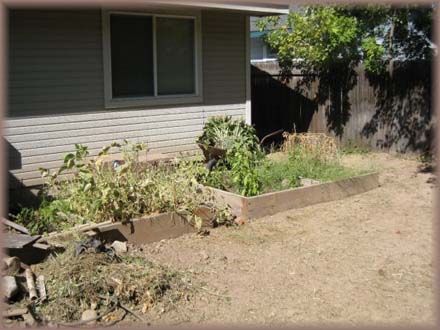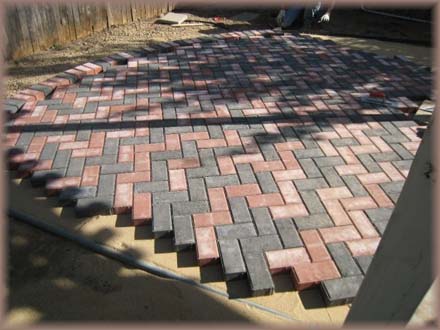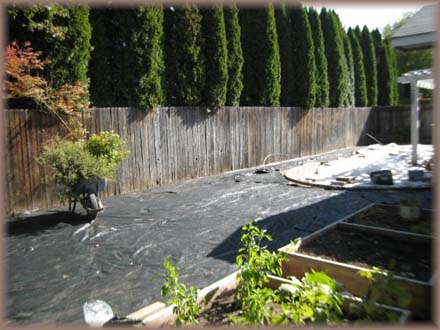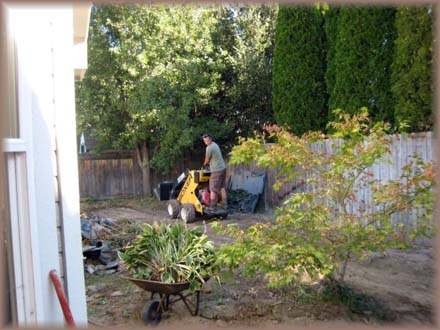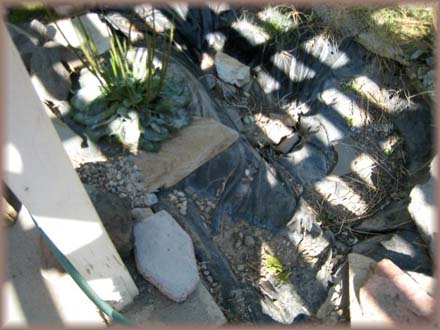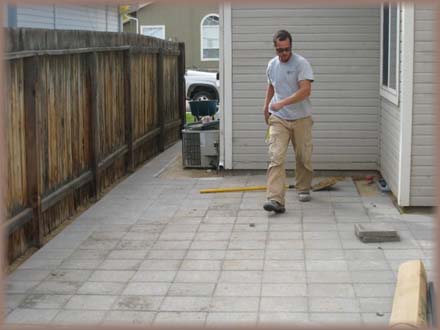 Back Yard Complete Tear Down, Removal, Clean up, Paver Patio and Landscape Installation
This project was compared to the rain forest before we began, taking forty man hours of removal and clean-up to be able to see a clear vision. We then measured and created idea's for the client's new sanctuary. The goal in mind was low to zero maintenance, flowing and pet friendly. The ground was then leveled and prepared for the beginning phases of the patio project. The colors chosen were red and slate grey, more of a contemporary look with an exclusive random pattern. Special attention was put into correcting the past drainage problem, and making sure the clients animals would be able to roam during non-work hours. Light grey was chosen for both sides of the home to connect the red and slate grey pathway. The garden boxes remained, weed barrier and ground cover were installed, a few of the remaining plants were transplanted to a more conducive location.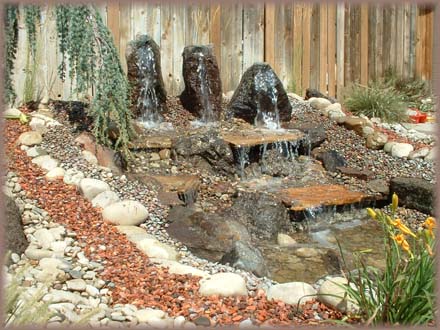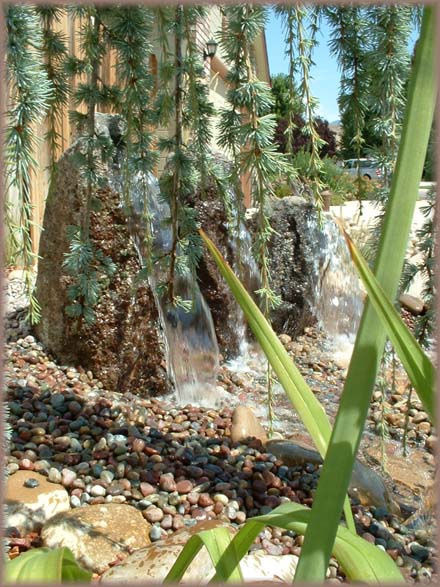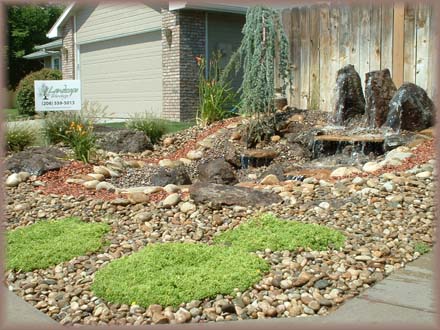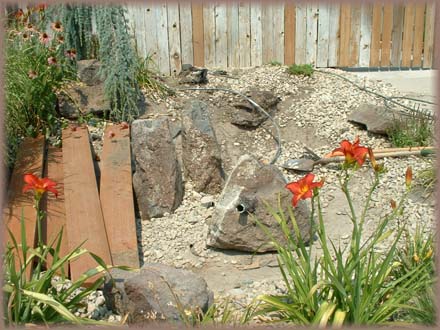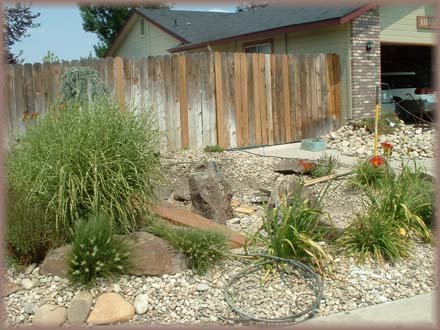 Water Feature
Client had a previously leaking and non-working water feature that was boarded up. We removed all of the material only to find the most beautiful pieces were buried under the pond. We redesigned the feature including replacing the piping alongside the feature rather than underneath it, making it simple to make repairs if necessary. We added extra material for fullness, function and color, set up a mock feature to make sure it met our clients specifications, removed some plant material for visibility, and installed a flow control device for the client to manage the flow of water at any given time. We installed the feature so that it could run during the winter months, or it could be drained until spring.